Ringing in Chester
Visitors to Chester will find a welcome at any of the towers where ringing takes place.
We are always pleased to heve experienced ringers making use of the ready-made network of friends that is one of the strengths of bell ringing.
Novices can be accommodated and those who have never seen bells being rung like this can come and watch.
And remember - bell-ringing is not dependent on good weather

The city of Chester has four 'ringable' towers. Within the city walls there is the Cathedral Church of the Blessed Virgin Mary and St Mary on-the-hill, and walking distance from the city centre is Hoole, All Saints and Handbridge, St Mary Without.

Prior to the 1970's, the Cathedral's large central tower housed a 29cwt ring of 10 bells. It is now just an eerily empty tower. The access was interesting to say the least; 3 separate spiral staircases, passage ways and balconies. The ringing room was directly below the bells, similar to Hereford Cathedral, meaning they would have been very loud for the ringers. The huge louvres on all four sides of the central tower, at the same level as the bells would have made the tonne-and-a-half 10 very loud around the city. Many ringers would have dearly loved to have experienced ringing on the 'old' ring. They would certainly have been a very interesting challenge.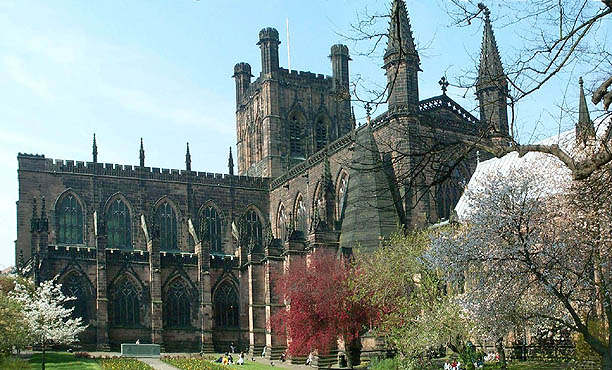 The first recorded peal in the City of Chester was rung in 1873. It is commemorated on a peal board inside the new Addleshaw Tower as follows;

5040 Grandsire Triples
On Saturday Evening March 22nd 1873
The Cathedral Society of Change Ringers
succeeded in ringing a true and complete peal of
Grandsire Triples, consisting of 5040 changes
In 3hrs 29mins. The ringers were stations as follows:

Treble. William Cross
2. Ambrose Bowden
3. William Woods
4. George Cross
5. William Walters
6. Freeman Ball
7. Robert Moulton
Tenor: Joseph Johnson

This whole peal was composed and conducted by Freeman Ball

Chester Cathedral's modern detached tower contains a 1970's Taylors ring of 12, with the tenor weighing 24-3-0.

Chester Cathedral practice on Monday nights and visitors are always most welcome.


St Mary on the hill is a council owned building now, and therefore, ringing is limited to special services. However, visiting bands are welcome, please contact the secretary for more information. The access to the ringing room is interesting in that you have to climb 3 vertical ladders:- something the faint hearted should definitely avoid. T
Across the River Dee is the Handbridge area of Chester which contains Chester's other ring of 8. a one ton Mears and Stainbank ring dating back to the end of the nineteenth century.
Visitors are welcome to the Wednesday night practice.

Last but not Least is Hoole, a 7cwt ring of 6 on the outskirts of Chester. Practice night is Thursday and visitors are always welcome.

| | |
| --- | --- |
| Chester Cathedral; 12 bells, 24-3-0 | St Mary on-the-hill; 8 bells, 13-3-8 |
| Hoole, All Saints; 6 bells, 7-2-0 | Handbridge; 8 bells,19-3-12 |
Chester's Unringables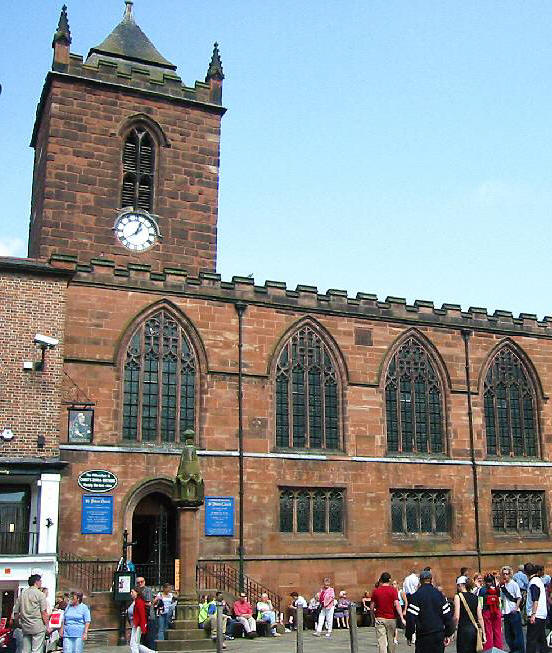 Chester St Peter, 6 bells, 9 1/4Cwt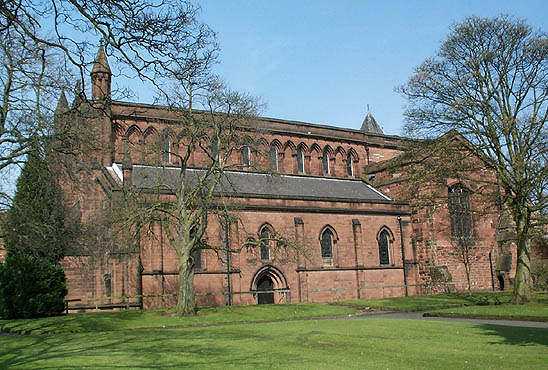 Chester St John, 8 bells, 14 Cwt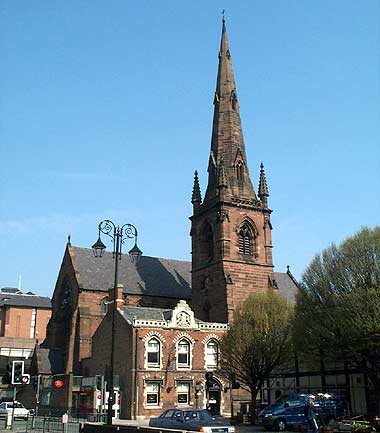 Chester Holy Trinity, 6 bells, ?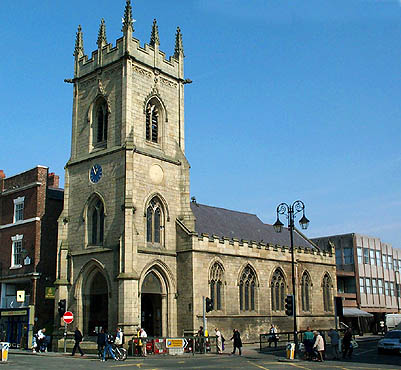 Chester St Michael
Chester is also famous for the rings of bells it has lost, but information about exactly what happened and when is sketchy at best. The Medieval St John's church was Chester's Cathedral from 1075 to 1102, located just outside the city walls, has a chime of 8 bells, but at some point in history, it had a 'ring' of bells. Its tall tower that once dominated the Chester skyline collapsed in 1881. St Peter's Church, located on the crossing, at the very epicentre of Chester, has a ring of 6 bells, but they are in such a state of disrepair, they are considered unringable. St Peter's have not been rung full circle since before the second world war at least. All 6 bells are still in the tower, and all swing freely. Some clappers are missing, and the wheels that remain are rotting away. 200 yards down Watergate St from St Peters is Holy Trinity church. This tower at one point did contain a ring of bells, which may have been stolen, perhaps during the second world war, when many church bells were removed from towers for safety reasons. Finally, St Michael's Church, now a heritage centre, also contained a ring of bells. At one point, probably between 1850 and 1881, there would have been 4 rings of bells that are either not there or not ringable today.

If you have any information regarding the lost rings of Chester, or if you know anything on this page to be incorrect, please get in contact the webmaster.